Chapter 1 Childhood and Memories of Adamsfield
I was born Bertram Albert Farquhar on December 13th, 1918, just after the end of World War 1. I was one of a family of four boys living on a small 100-acre farm, a mile and a half from Scottsdale.
I came from a pioneering family - my great grandparents arrived in Tasmania from Scotland in the 'Broomielaw' on April 1st 1857. In the beginning they camped at Jetsonville in a hollow tree. My great uncle, Thomas Farquhar, was the first white boy born in North-Eastern Tasmania.
My father, Robert Alexander Farquhar, married Jane McLennan, whose family also were among the early pioneers of the district. My Dad, who was known as Bob, was the eldest son of a family of five (one girl and four boys), whose father died when he was 14 years old. He used to cart chaff to Derby with a horse and cart and sell it for 10/- a ton, and as a young man he sent all his money home to pay off the farm. His final act in that regard was to pay for the re-roofing of the house, just before he was married at the age of 28 years. He therefore began married life without any money whatsoever.
My mother Jane was one of a family of seven (five girls and two boys). The girls had to milk the cows before walking five miles to school. They also had to do their share of the farm work before an occasional social outing, such as going to Bridport for the day by horse and cart. They used to boil the billy half-way, at Muddy Creek. My mother worked very hard all her life; even in her retirement she grew plants for sale.
Dad worked for a few years at the Forester Sawmills, and drove a loco engine transporting timber by rail from the mill to the long jetty at Bridport. This railway was pulled up just before the Second World War and the iron sold to Japan.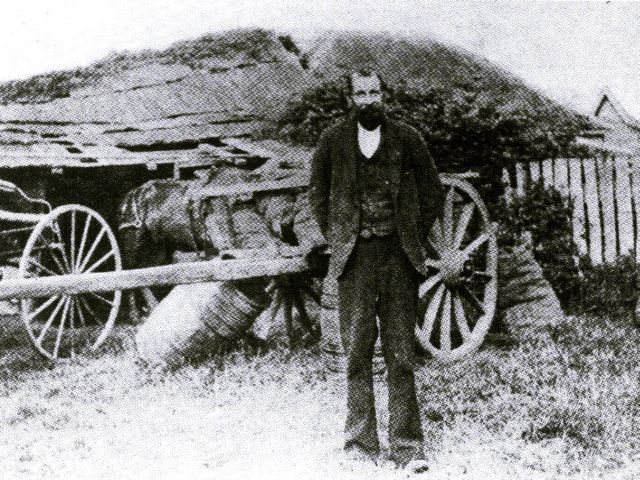 Thomas Dougal Farquhar - 1860 to 1947. First white boy born in North-East Tasmania.
The family farm was not good enough to support a family, hence the need for Dad to work in the sawmill. During this prosperous time my brothers and I received threepence a week pocket money! Dad was very capable and could turn his hand to most things. I was really impressed with his building and setting up the tin crushing plant at Lottah, when I was fifteen, working and camping with him.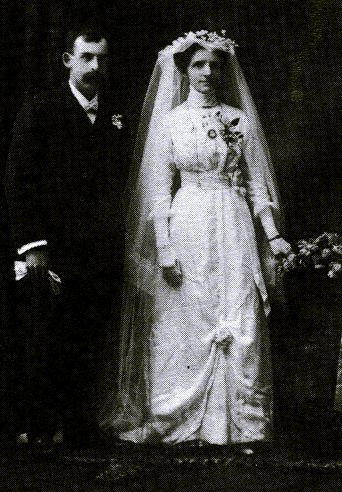 Wedding of Robert Alexander Farquhar and Jane McClennan
(my father and mother). Married 6th May 1914
In the early 1920's osmiridium, that elusive metal much favoured for the hard tips of fountain pens, surgical instruments etc., was discovered at Adamsfleld, in the South-West of Tasmania, and my father was one of the early miners to go to the field.
Osmiridium has been found only on a hair's breadth line encircling the globe, and Adamsfield and Savage River, in Tasmania, are on that line. Its discovery in this State consequently attracted adventurous men from various walks of life in the hope that they would strike it rich.
[More information about Adamsfield: Tasmania Parks and Wild Life Service pamphlet and map (pdf) , ABC Hobart , DVD held in State Library of Tasmania ]
Adamsfield was in very rough country, and in the first years of mining there, all goods were packed out on horseback over the first section of the 26-mile track and, for the remaining more precipitous section, on the backs of the miners or contract pack carriers. Later the horse track was extended for the full distance.
The carrying cost of goods was much higher than the purchase price. For example, when the Stacey Bros. bought a bag of potatoes at Fitzgerald for ten shillings it cost them £15 to cart it to the minefields - thirty times the original price!
Incidentally, before Stacey Bros., who were the big boys of the field, found lode osmiridium it was all in alluvial form. In many cases the proceeds from its sale were as hard to hold as it was to find. The Stacey brothers, like most of the miners on the field, worked hard, lived hard and played hard. One of the brothers left the field worth £12,000, but returned two years later unable to afford £1 for a horse to carry him. He claimed that fast women and slow racehorses were his downfall!
In December, 1924, Dad took my mother and us boys to Adamsfield for six weeks. This necessitated a train trip to Fitzgerald, followed by the 26-mile horseback ride along the corduroy track to Adamsfield.
Incidentally, corduroy tracks were made by cutting 6 foot to 8 foot saplings of eight to 12 inches in diameter and splitting them in halves. The split sides were alternately faced upwards and downwards and nailed close together on two stringers, 4 feet to 5 feet apart. These stringers, which could be logs of 18 inches or more, were placed across gullies and the corduroys (the split saplings) were nailed to the top. It was quite a satisfactory method, but the sappy surface of the corduroys at times became slippery, and it was quite possible for horses to slip over the side. Often small spars were put on the ends of the corduroys to prevent this happening.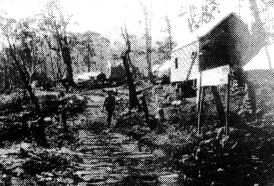 A cordwood road in early Adamsfield.
One day, when I went up to Luttrell's Store
at the main camp, I met a man who told me
he had just cleaned up 10 ozs. of 'Ossie'
from a prospect hole that had been sunk
about 2ft. 6ins. by a new chum some time before.
By digging another couple of feet he 'struck it rich'.
F. A. Milne
On this first trip to Adamsfield I was six years of age (I celebrated my birthday on the field). I became very upset at having to share a horse with my elder brother Ron, because I was a good rider for a boy. I now realise that the hire of a horse for the trip (£1) was two and a half days work for the average man at that time.
As the horse was climbing the steep mountain track I would start slipping over his rump and then fall to the ground. Apparently I walked many miles, which caused great comment. However, it was probably easier to walk than to keep slipping over the horse's rump!
Part of the Adamsfield horse track is now a section of the main road to Strathgordon. When travelling at 100 kilometres per hour along this road recently, I thought of when I was six years old and being 'double dinked' on horse back. At that time none of this area had been logged. Between Mt. Field East and Mt. Field West, according to the packers, it was always raining. Sometimes only a misty rain, but without exception there was always rain of some description. The moss hanging down from the tree branches of up to half a metre in length was spectacular.
My father Bob Farquhar and Ken Williams had the first large scale sluicing mine in Adamsfield. In the sluicing process water is concentrated in a pipe column and a nozzle at the end of the pipe column is used to wash away the dirt and retain the osmiridium.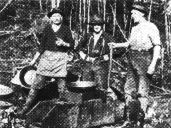 Adamsfield: Farquhar's Claim.
Left to right - W Cowie, K McPherson, J. Farquhar.
One thing (was) the amount
of gold found in the larger diggings. An
old man told me a Mr. Farquhar (probably
not so old), had a largish brandy bottle
(flask shaped) nearly filled with small
nuggets.... The miners said the fine gold
was a nuisance (£2 an ounce as against
the osmiridium £39) as it was hard to
separate from the os.
Beryl Perkins.
Osmiridium was about £35 an ounce, and it was heavier than gold, so it was eagerly sought after, as work and money were scarce in those days. The fixed price of gold at that time was £30 an ounce.
Osmiridium was relatively easy to mine, as it was mostly sluiced with a mining dish. This method of swirling the dirt and water around in a dish and letting the osmiridium settle to the bottom was so simple that Ron and I became quite expert for boys. We earned on an average about 5/- to 6/- a day, which was quite a reasonable wage for a man back home on the farm.
One day a man came along to where we were working and put a shovelful of dirt into our dish, then a shovelful into his own. We got a few grains of osmiridium, but he got a quite valuable nugget from his dish.
We all had a wonderful six weeks and I asked whether I could go again with Dad. However, this did not eventuate for another three years, and by this time I thought myself quite grown up, for I had a horse of my own to ride and was living as one of the men.
There were a thousand men on the field, and only five women, and I remember many amusing incidents. One concerned a girl from Sydney; the attention she received was too much for her. One night she disappeared and all the men left rich osmiridium lying in their sluice boxes and went searching for her. The country was covered in snow and at last they found the girl's tracks leading to the 300 foot falls where the Adam and Eve rivers met - and they noticed the last heel mark on the brink of the precipice. Knowing no-one could stand there they were very sad, because they were sure she had fallen to her death. However, she turned up later from a miner's camp.
Apparently when she realised that a thousand men had been looking for her she took her shoes off, lay down and made the marks to the precipice of the falls. She was promptly sent back to Sydney!
Another night, while I was sleeping, or trying to sleep, in a lean- to tent, several miners entered the butcher's shop my father was managing and advised him to put all the butcher's knives under the counter, because a well-known character, Billy Lubey, apparently had become temporarily unbalanced. Billy thought my father was won- derful, because he had given him a camp with equipment when Billy's had been burned down. Billy considered he was in love with Pearl Smith, one of the five women on the field. Billy, who was a wonderful revolver shot, had told his mates that the Lord had ordered him to kill Bob Farquhar and Pearl Smith. The men who had called at the shop decided to go to his tent in the early hours of the morning and capture him before he could do any damage.
When they sneaked up to Billy's tent he was awake and called out, The first man who enters this tent will be killed. They could see the outline of a revolver under the bed clothes and were sure that if they went forward someone would be killed before Billy was overpowered. They kept trying to distract him, but to no avail, for everywhere a man appeared the revolver under the bed clothes was pointed at him.
When day was breaking a red-headed Irishman, Barney Flanagan who had been away prospecting fora few weeks, arrived and asked what all the fuss was about. When he was told he said, Well, I will never get to Heaven, so fire away, Billy, I'm coming in. Barney pulled the bed clothes back and Billy had only his finger under the blankets pointing at the men! This caused great amusement among the miners.
There was another incident that rather scared me when I was supposed to be asleep in the tent adjoining the butcher's shop. As there were no police at Adamsfield, the miners had a very rough but fair code of rules, and, because of the high cost of transporting food and goods, they could not afford to have thieves operating in the camp. A loaf of bread cost 2/6 and the ruling wage in other parts of the State was less than 10/- a day.
Six men met in a room adjoining my tent and decided to throw a man over the Thumbs, a steep mountain crag, because they believed he had stolen a shovel and a mining dish. The seventh member of the Miners' Committee arrived after the decision had been made. He agreed with the decision, but asked who had seen the theft. Each man thought another man had witnessed it, but no-one had actually seen the man do it. So they decided to wait and keep a watch on the suspected thief. This was my first experience of circumstantial evidence which nearly resulted in a man's death, and it made a great impression on me, a nine-year-old boy.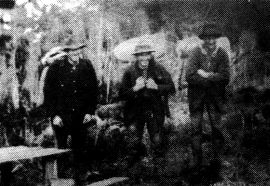 Three Packers.
These young men fairly trotted where
the going was good. - Beryl Perkins.
The men used to drink a lot of alcohol, packed in illicitly, 'sly grog', they called it, and things got a bit wild at times. My father told a story of how the miners, after drinking, were disporting themselves in a game of ring-a-ring-a-rosy, like children, when one of the wags threw half a stick of gelignite into the ring. It exploded with a terrific roar, throwing dust and dirt everywhere, but the miners did not lose a step in their game.
My second trip to Adamsfield was cut short when my eldest brother, Ron, aged 11, had an accident which necessitated our prompt return to Scottsdale. A tree had fallen across the communication line to Adamsfield, and the message eventually relayed to my father was that one of his family was dying.
Fortunately, this was an exaggeration, but every man travelling the horse trail to Adamsfield (100 horses were used on the trail) dismounted when they saw Dad and me appoaching, offering the benefit of a fresh horse. Men were tough, but very good-hearted and generous to anyone in trouble.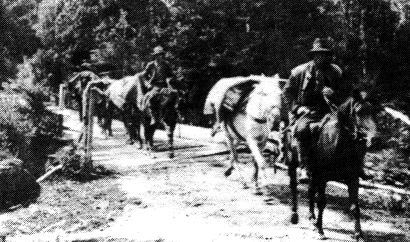 Pack horses near Russel Falls River. - R.S.
When we arrived home we learned that Ron, while riding his push bike, had collided with a car. Ron was unconscious for ten days and had two tablespoons of brain taken away in one of the most wonderful operations ever done in a country hospital. After nine months he went back to school and gained six special prizes for the year. I didn't get any special prizes!
Ron was very mechanically-minded and looked forward to a wet day so he could make something. Later, when we were in partnership, the wet days were the only days when we had any differences. Ron was anxious to be up and busy whereas I preferred to take things easy on wet days and go flat out on fine days. Ron could make anything, and his sons also are very capable. Alvyn, my youngest brother, has had great thoughts in this direction, but I don't think he has Ron's ability in designing and making new machines. However, Alvyn is more mechanically-minded than I am, and has a terrific disposition. My mother said she gave him half a cup of cream a day when he was a baby, so that is why he was a perfect baby! Mothers today would shudder at the thought.
I doubt that Reg (Dr. R.N. Farquhar), three years younger than me, was very mechanically-minded; I guess he was about in my category in that line. However, he did a wonderful job academically. He was a prisoner of war for four years, but then, under great difficulties, he did very well in his profession. He also contributed substantially to Australian agriculture.
When Reg came back as a P.O.W., the doctors wanted him to have a full pension for life, and not do any work, because they thought he couldn't study. I did advise him to this effect, but he said, 'Well, they think I am just going to be a vegetable, don't they?' I said, 'Oh, not really.' He said, 'Oh, yes they do, so I have got nothing to lose. I may as well have a go and see what I can do.' So he studied and obtained his university degree and then went on to successful study at Cornell in America.
Later on he joined the Commonwealth Department of Primary Industry, under various people such as Ken Wriedt and Ian Sinclair and different ones. He was a liaison officer between the Commonwealth and State Departments of Agriculture.
The following year, when I was 10 years of age, I drew from the bank all my 'life's savings', made up of money from the sale of rabbit skins and pocket money, which amounted to £10, and bought a half share in an ounce of osmiridium. This was kept in London with osmiridium owned by my father and others and resold some nine months later. The price jumped and I gained £1.10.0, which was very good interest. It was the first of many investments.
After the town at Adamsfield became established, killing facili- ties were built and stock were driven out to the site. There were accidents on the trip and some of the cattle were lost, for it was very easy for horses or cattle to slip over the edge of the 4 foot to 6 foot wide, slippery corduroy bridges into the steep gullies below. The fact that bridges and countryside were often covered with snow made conditions even worse. We often received letters from Dad saying, 'It is 10 p.m., snowing, and the pack has not yet arrived; I'll go and meet them.'
To stop the horses going over precipices or wandering off, ten or more were tied together and walked in single file. Unfortunately, however, if one did slip over the bank he pulled others with him. If this happened a horse was positioned above the ones that had slipped, a rope secured to its tail and to the head of the one below, which was then pulled up. The horse's tail made a cracking noise under the strain, but it didn't seem to affect it, for a horse's tail is very strong.
The work on the track was very hard on the horses, and on an average they lasted only two years. Jeffreys, who transported supplies over the Adamsfield track, had 70 horses in his stable - at that time more than anyone else in Tasmania. Jeifreys was a great individual and was credited with taking the first pack horse teams to Adamsfield.
Dad managed the general store and butcher's shop on behalf of Jeifreys and owned a half-interest in a mining venture. He was well respected and his word was his bond. Jeffreys knew this and turned the fact to his advantage in more ways than one. He was a handsome man, very attractive to the ladies, and when he wanted to see his girl friend ten minutes away from where he lived in Fitzgerald, he used to ride his racehorse to Adamsfield and back, a risky, six-hour trip, especially in the evening. So when his wife rang Dad to check that her husband had gone to Adamsfield, as she had been told, Dad could truthfully say that he had arrived; of course he had immediately left to go back and visit his girl friend!
My mother had more than a hundred laying fowls on the Scottsdale farm and after hearing of the fantastic price of eggs at Adamsfield she decided to cash in on that market. She saved up all the eggs during the main laying season, preserved them in four-gallon kerosene tins and packed them in sawdust, then sent the lot by train to Fitzgerald.
It would have been a very profitable project had not the horses lain down during the lunch break on the strenuous mountain trip. More than 95 per cent of the eggs were broken, and it was a sorry day for Mum when she received Dad's letter giving the sad news!
Mum worked very hard. She used to get up at 4.30 a.m., travel some miles by horse and cart to another property, milk the cows and be back home by 8a.m. to get us off to school. When I was six I began carrying Alvyn, my youngest brother, part of the mile and a half to school. The school allowed him to attend, which helped our mother.
All the family worked very hard at that time, as did many others. There was very little money to spend, and only the very necessary items were purchased. While my father was at Adamsfield our mother did her best to keep the small family farm viable. The property could not afford a bull and there was no such thing as artificial insemination. Therefore, when a cow came in season Ron and I had to drive her nearly a mile to the neighbour's bull. It is a very hard job to drive one cow away from the others at any time, but almost impossible when she is in season. She naturally enjoys the attention of the other cows at this period and does not want to leave them.
We found that the only way was to chase the cow so she had no time to turn around. If we stopped for a breather she would turn and face us, and then there was no way we could stop her from going back home!
While I have never had to do the same thing again, it was very good training. When driving a few hundred head of cattle, I have since found that it is necessary to have gates open in advance so the mob can be kept going forward, because, once they are allowed to turn, horses, dogs and stock whips cannot stop them. Most graziers gain this experience while gathering and droving cattle, not through having to drive a cow in season to the neighbour's bull on foot! While this was possibly the cheapest and most effective method of learning animal behaviour, I do not recommend it to anyone.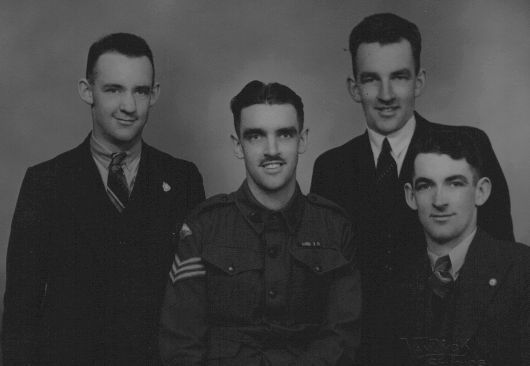 1945 - Farquhar boys, left to right - Alvyn, Reg, Ron and Bert
Selling rabbit skins was the main source of income for us boys, and the rabbits supplied meat for the household. Before myxomatosis was released by the C.S.I.R.O. or 1080 poison was made available, rabbits were a major problem for farmers. In one year, during autumn and winter, Ron and I trapped 300 rabbits around a two and a half acre paddock of oats. No wonder it was impossible to feed stock off the oats, but our operation at least enabled us to cut some hay from the paddock.
I remember that Jim Campbell carted in the hay with his bullock team and by the time the team had had their lunch and evening meal of hay they had made a big impression on the small amount left for winter feeding. As a further reminder of that year, I recall that Ron, while forking the hay into heaps, stuck the pitch fork through one of my ears. Then, when cutting ferns with a hook he managed to slice one of my eyebrows.
But I managed to survive, and there were times when our work was far from dull. We worked at times with Mr. Ernie Bartley, a good worker and a very nice chap, but be never stopped talking, and did not stop to listen to what other people said. One day when Fred Jensen was heaping up logs with a bullock team, Ernie was picking up the broken limbs, chattering away as he worked.
'To make a long story short,' he declared, as he carried a limb on his shoulder. He failed to notice a snake was caught in a crack with it's back broken, but still shooting its head forward trying to bite Ernie's neck, about a foot away. 'Mr. Bartley,' yelled Ron, 'be careful that snake doesn't bite you.'
'Yes, yes,' Mr. Bartley conceded, 'To make a...' He suddenly realised what Ron had said, as the snake struck forward to within six inches of his face, and he dropped the limb in a hurry. For a while he did listen to others, but was soon back to his loquacious self!
Reg and Alvyn at this time were still at school. Reg later joined the A.I.F. and was taken a prisoner-of-war in Timor. Alvyn joined the R.A.A.F. and was part of the many air crews operating against the Japanese, mainly over New Guinea. On his return to Australia, after the war, he studied and worked hard, joining the Postmaster General's Department and later the Customs Department.
Alv and Nance are retired in Melbourne. Their sons, Robert, Jim and Douglas have all made great progress in their chosen activities. Jim takes after his great Uncle Douglas, who was credited with making the first home-made automatic gear-box. He is mechanically gifted and repairs aeroplanes and helicopters etc.
Nell Farquhar is living in Winnaleah and was recently awarded the B.E.M. for services to the community. Ron and Nell's sons, Ian, Bruce and Rod and daughters, Jan Morris, Ros Eaves and Gwenda Boyd are all industrious, good citizens and very progressive.
Betty Farquhar is still living in Canberra in the town house she and Reg moved into a few years ago and doing an excellent job helping family and friends. Sons Graham, David and Scott are a credit to their parents and are fully using their many and varied talents.
I must not get in front of myself, because at this time in my story only two of us had reached our teens.