Chapter 8 Experiences Abroad
In 1949 I wrote to Henry Kaiser, of America, and sent him two books, 'The Great Boomerang' by Idriess and 'The Battle for the Inland' by F.R.V. Timbury (which was really Dr. Bradfleld's scheme). Dr. Bradfield was the engineer who designed the Sydney Harbour Bridge. These books suggested the turning of the eastern rivers back over or through the Great Dividing Range to water a large area of the drier interior of Australia. Bradfield's scheme envisaged an area totalling that of France, Belgium and Holland. The suggestion was that Kaiser look at the feasibility of doing this and hopefully undertake some of the work.
Mr. Kaiser's executive officer, Mr. Robert Elliott, thanked me and said Kaiser's orgatusation could not come to Australia for five or six years, as they were going into aluminium production. In 1951, when Mr. Kaiser did procure a Snowy Mountain contract for the diversion of the Snowy River waters inland for hydro development and irrigation purposes, I was the first private person in Australia to be told. I took a great interest in Kaiser's activities when I was a teenager.
Henry Kaiser became a multi-millionaire in the early 1900's by supplying sand and gravel. He then took over the contract from the successful tenderers for building the Boulder Dam, which at that time was to be the biggest in the world. Instead of the six years allowed, he completed it in four years. He requested a big concession on the privately owned American railways for his contracts, and as these concessions were not sufficient from his point of view, he built 5000 miles of his own railway.
Kaiser then requested a far bigger reduction in the price of cement and, as this was not forthcoming, he built the biggest cement factory in the world. This was commissioned about 1937, just before the Second World War.
During the war, although Kaiser had never built a ship in his life, he secured three-quarters of the U.S. merchant shipbuilding contracts. The terms of the contracts seemed impossible to the other tenderers. They had 128 days to build a 10,000 ton freighter and six weeks to fit it out for launching. Other ship-builders of America and the rest of the world thought this impossible. But in granting him this vital contract the U.S. Congress knew his past achievements and, after studying his plans, felt sure he could fulfil his obligations under the contract.
He was soon building ships and fitting them out in 84 days, then 34 days. Then he built a ship in seven days and fitted it Out in three, a total of 10 days, as a special effort for President Roosevelt's visit to his Californian shipyards!
Therefore, when I wrote to Mr. Kaiser and sent books, it seemed a bit far-fetched and only a dream that he would ever come to Australia. However, when he did write to me in 1951, telling me that he had this contract with the Snowy Mountains Authority, I was very excited and replied saying that a small aluminium works had been established at Bell Bay in Tasmania, and that the greatest bauxite deposits in the world had been discovered at Weipa, in North Queensland.
Previously world production of aluminium was really controlled by an Anglo-American conglomerate. About this time an international magazine stated that Kaiser's had broken the Anglo-American aluminium combine of the world and Kaiser's were producing 50 per cent of the U.S. supply and 40 per cent of the world's supply of aluminium. They later became major shareholders in Comalco, Bell Bay, Weipa and Gladstone, but in the 80's sold out their interests in these projects.
In May, 1956, I met Henry Kaiser at the opening of his Hawaiian Village Hotel. Sir John McEwen quotes that he had a stop-over in Honolulu some months before when Henry Kaiser had a difference of opinion with the manager of the Royal Hawaiian Motel. Kaiser flew back to America on the Friday and was back in Honolulu on the Monday, while John MeEwen was still there.
Kaiser bought some ground, apparently from the Army, some ocean and beach from the Harbour Trust, and began building his own motel. He wished to retain coconut palms so he put sponge rubber in the roof so they could sway in the wind.
For the opening (it was only incidental that I was there) Kaiser had a foot of straw glued on his Cadillacs to match the girls' grass skirts and had four Hawaiian girls in grass skirts sitting at the table fanning him and keeping him amused.
Michael Miller, Kaiser's top executive in Honolulu, told me that Henry Kaiser had phoned him on the Thursday (when he was in the middle of a big project in Canada) asking him to report to Honolulu on the Monday to begin building this Hawaiian Village Motel.
On our way to San Francisco in 1956 our aeroplane flew over the U.S.A. 'Mothball Fleet' consisting of many 10,000 ton ships, mostly built by Kaiser for the Second World War. My chance travelling companion realised how interested I was in the Kaiser activities and he told me of his experience with the Kaiser company.
This person was working for another ship-outfitting company and he said Kaiser paid them an enlarged 10 per cent plus profit margin. For instance, if Kaiser had let their company a contract on a competitive basis for $10,000,000 to wire and fit out a number of his ships, their 10 per cent profitwas $1,000,000, leaving $9,000,000 cost to do the job. This procedure was common practice. However, Kaiser then told the successful tenderers that he would share 50/50 with their company any reduction in the cost below $9,000,000.
The company put all staff on an incentive scheme, so that if all worked hard and the cost was only $7 million, the contract company profit was the original 10 per cent estimated ($1 million) plus 5O per cent of $2 million (the difference between $9 and $7 million), $1 million.
Therefore, their total profit on the deal was $2,000,000. And, of course, Kaiser got his ships wired and serviced for $9,000,000, not $10,000,000, so both parties made $1,000,000 more on the deal.
Michael Miller arranged for Mr. Oppenheim, Vice-President of Kaiser's, to meet me in San Francisco. On my arrival in San Francisco Mr. Oppenheim rang to say he had to undergo an eye operation and he was sending his own car and driver to meet me.
Mr. Stan Kimball, his world plant manager, entertained me and showed me around. In one little episode he asked me if I would like to meet Tom Price, Chairman of Kaiser's Steel Mills. I thought it would be a waste of Tom Price's valuable time, but Stan Kimball insisted and said to one of the girls in Kaiser's 28 storey office block - Jean, get me Tom Price. She answered Sorry Stan, he is playing golf. Really great efficiency.
Incidentally, later when Lang Hancock's find of vast iron ore deposits in Western Australia was televised in the A.B.C. programme, Dig a million to make a million, Sir Val Duncan, the chairman of the Bank of England and Chairman of C.R.A., said to Edgar Kaiser (Henry's son), I have just dobbed you in for thirty million. Edgar replied, O.K., I will send Tom Price over to look at the mountain. It is named Mt. Tom Price in Western Australia today.
Another highlight of this visit to America was meeting Jack Simplot, being shown through his vegetable processing factories and viewing, sometimes from his private plane, his sawmilling, building and mining activities and cattle lot feeding.
It was pleasant flying over the mountains to their Lakes home with Simplot and his wife. His pilot asked me to take the controls while he talked to his boss in the back seat and then asked if I wished to land it, but of course I was not a pilot and this was impossible.
I had a number of adventures in Chicago and New York. I was advised to carry a gun when going around on my own, but the big problem was who to shoot! I was fortunate that I didn't carry a gun or I might have been killed.
The following episode took place one lovely morning and I certainly did not need a gun this time.
When walking down 42nd Street in New York, a chap I was passing asked me the way to a certain destination. I replied I am a stranger. He said, Oh, an Australian. Which part do you come from? I told him Scottsdale, a little place out from Launceston in Tasmania. He asked me about Patons and Baidwins Woollen Mills and if the Gorge was as lovely is ever!
In conversation he told me he had been born in Mackay, Queensland but had lived most of his life in Canada. He mentioned that he nearly started a business in Tasmania. In answer to my query he told me Joe Lyons (Australian Prime Minister) had asked him to submit a proposition for the establishment of a pulp mill at Burnie many years ago, but as the eucalypt had short fibre and he was used to the pine long fibre, he did not do anything about it. (Burnie was the first pulp mill in the world to use eucalypt short fibre timber for pulping.)
As I was going past the St. Regis Hotel where he was staying, he asked me in for a drink He spoke to the commissionaire calling him George, and also called the office girl by name, then went up to his room to get something. Everyone seemed to know him very well.
In the U.S.A. everyone had been very good to me, offering me Cadillacs and hospitality, so it seemed normal that an Australian would be friendly.
He mentioned he was going to London next day, and as I was flying to Scotland he asked me to call on him at his London hotel. I mentioned I would, if time was available.
After a drink, he offered to drop me off at a timber plant I was visiting. On the way he had to pickup a parcel for his nephew who was in business in Paris. In replying to my question he told me that this nephew was in wholesale jewellery, which in his opinion was a risky business. He said his nephew had already paid most of the money and he had only to pay a nominal amount and pick up the parcel.
We travelled across New York in his Rolls-Royce and called at Masseys, the big New York Jewellers. He came out pushing a roll of $100 bills into his pocket and mentioned that after he dropped me off at my destination he would slip back to the St. Regis to pick up some more dollars to pay for the parcel. I replied, I'll lend you the money, but I have only $800' He said, That's just what I need.
I was in the act of pulling money from my wallet and handing some to him, when he had answered it was just right! I thought I was being too impulsive, so I said, I can only let you have $600 because I need $200 this afternoon. He answered that the $600 would still be sufficient and he was holding one end of my wallet. I was then 95% convinced that I should not lend it to him, but as everyone had been so generous I was not really sure.
I asked him for his card, because I said, I don't really know you. My blood was tingling through my veins and I felt sure there was going to be a scrap. He said, You have changed your mind. You are not going to lend me the money? I replied, That is correct. He mentioned I was sensible in not lending money to strangers and still wished me to visit him at his London hotel, and said cheerio.
I was worried, thinking that perhaps he had just been anxious to pickup the parcel and I was behaving like a mean, suspicious, country bumpkin. Others had been extremely generous to me. I hailed a taxi, returned to the St. Regis and asked the commissionaire and receptionist whether they knew Mr. Mathais, the millionaire from Canada who was staying there, very well. He had never told me he had money or that he was a millionaire, but to start the first eucalypt pulp mill in the world he had to be a millionaire! They had never known such a person.
I explained how he seemed to know them and mentioned he was about fifty-six years old, 5 feet 10 inches, a blonde stocky chap with one half gold tooth in front and the penny dropped. It was the fabled international confidence man that Interpol was searching for!
The Australian Ambassador in Los Angeles, three weeks previously had warned me about an international confidence man then operating in America. The police did not have a picture of him, but he was a blonde stocky chap about fifty-six years old, 5 feet 10 inches high with a half left front gold tooth.
He really was an amazing, talented man, who never asked his clients for money; they just offered it to him. Apparently two lots of Australians had given him nearly $10,000 in Hollywood and then had to pay for the Rolls-Royce when he did not return from the manager's office!
To think I would come across this man among two hundred million Americans, at the time seemed so far fetched, that I had promptly forgotten all about it.
It is interesting that when I was in America in 1956, Henry Kaiser companies had a gross income as big as Australia's gross national income. The 'Australian' of June 17, 1988, quoted the fact that Elders had purchased Kaiser Engineers worldwide. The following day they sold Kaiser's overseas interests and kept the Australian branch.
It is just another example of how a company reaches great heights and then, after a couple of generations, is comparatively small, although I guess we would all be pleased to have an asset of $70,000,000 to sell.
I have spent quite a lot of time and energy in trying to persuade various Federal Governments to take up Bradfield's challenge of turning the Australian coastal rivers inland.
The books I sent Kaiser in 1949 were part of this dream of turning the coastal rivers inland into the heart of our dry continent.
The Snowy Mountain scheme has really been a great success, turning the vast Snowy waters inland and also creating a big hydro-electric scheme.
Unfortunately, even this water is nowhere nearly enough for the towns and farms that draw upon the resources of the Murray River. This great river is over-used and the banks have been denuded of trees, and salting is a great problem. However, these factors would have had a bigger impact had not the waters of the Snowy been there to help. There are many other rivers which I consider could be turned inland.
I visited Canada a few years back and the Agricultural Department was good enough to forward details of some of my activities on to their Canadian counterparts. This was before I bought Rushy Lagoon and installed a vast network of water conservation and irrigation schemes.
The official told me I would not see a private irrigation project in Canada as big as the one I had installed in Tasmania. This amazed me, as Canada is supposed to have a third of the world's supply of fresh water. In dry seasons the snow melts and the rivers run strongly, as they do naturally in wet seasons.
We stayed at two of the biggest cattle ranches in that country and in my opinion they could have used the water resources they had in the hills and on their own properties to greater advantage if they had really understood how to use them simply and cheaply.
The world is really beginning to value water, and in the U.S.A. and other places, city and country interests vie for supplies. However, its potential is still under-estimated, and everywhere I went I saw great possibilities.
India has fabulous potential for irrigation from the great rivers running down from the Himalayas, with the ground generally sloping gradually forhundreds of miles to the oceans. If that country had better irrigation it could support a billion people.
China has vast areas, with over 85 per cent of the population living in 15 per cent of the land, where they have really good irrigation schemes. However, a lot of their land does not lend itself to easy irrigation projects. What schemes they have undertaken, though, have been managed very effectively. Only a brave man would dare to say he could take over China and greatly improve production.
We in Tasmania, and for that matter in the whole of Australia, must look after our forests in the headwaters of our rivers and streams and use that water to the advantage of the people generally.
While on my around-the-world trip in 1956, when I visited Kaiser's, I also viewed land development, food processing and forestry. As there was no outside finance available to me for the trip, every important detail observed was treasured with the hope of being able to use it to advantage later.
The following letters show a complete change-around by Kaisers. In 1949 they definitely could not come to Australia. In 1954 he forwarded me an early release of the huge contract on the Snowy Mountain Scheme and in September of that year considered it a forerunner of activities in Australia.
Not many Australians were travelling overseas in 1956; now you cannot walk down an overseas street without bumping into an Australian. At that time even Americans were not so much travelled, but they all had something in common - a desire to visit Honolulu or tell you about it. The radio daily had interviews with guests and these were broadcast over some 800-odd radio stations in the U.S.A.
I listened to an Australian couple telling about their sheep station, and it went over very well. At the end the announcer said, 'It is not often we have two Australians here,' pointing me out. He added, 'You two should get together.'
Later I happened to meet them on the beach and complimented them on their talk. They asked me if I knew much about sheep and I answered no, because this was true at that time. I mentioned that I did have about 1500 sheep, but not vast flocks as they had. I asked about the breed of their sheep and where their sheep station was. After a few minutes the wife looked embarrassed, so the husband told me they really lived in Collins Street, Melbourne, but, as all the Yanks seemed to own an oil well, they thought they would own a sheep station!
The 1500 sheep I had at this time were being grazed on a bush run for wool production, and I employed Charlie Clayton to look after them. He was a great character and a wonderfully tough old-timer. He was carried on a platform through Melbourne during the First World War as the best physical specimen to leave Tasmania.
There used to be quite a lot of sheep stealing about the time I bought this sheep run from Charlie. Just before that, Charlie met a man who was known to steal sheep. Charlie told him, 'I have shot a lot of men in the War, but! would not shoot a man purposely now. However, if I ever see you on the property again I will shoot a kangaroo right behind you; you will be dead, but it will be an accident, you understand' The friendly advice was P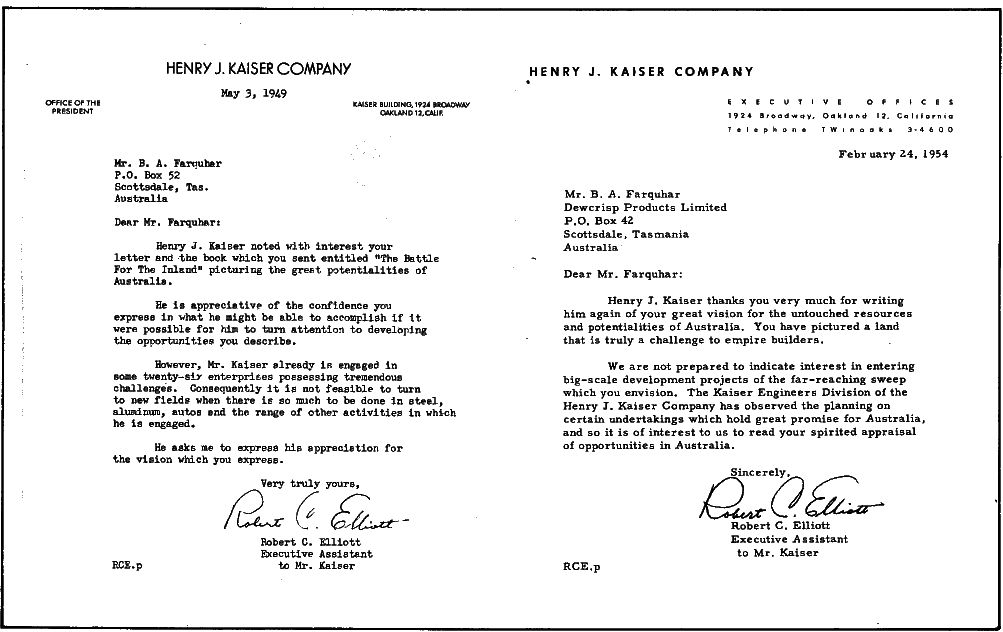 Letter1 from Kaiser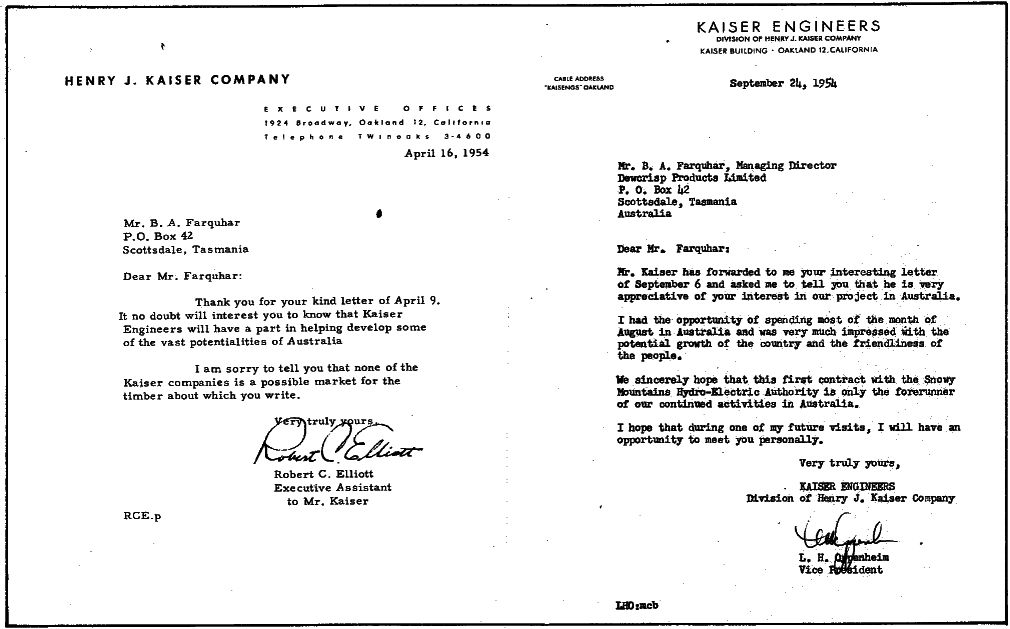 Letter2 from Kaiser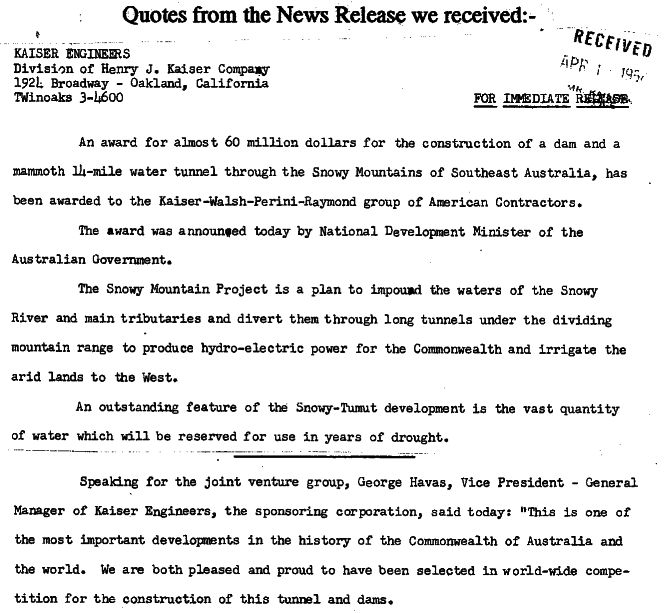 Press releases from Kaiser
Just before going overseas I had been in Sydney and the University students had played a prank. They had dressed up as workmen with all the right gear and had banicades. They had dug up the centre of Martin Place. Actually they had been there for days doing it and the police were ushering the traffic around these barricades. The Water Board apparently thought it was the Postmaster General's Department, the P.M.G. thought it was the sewerage people and everyone thought it was someone else, but of course eventually they found out.
But I thought, well, if you just do things in broad daylight and keep a serious face, it is just wonderful what you could get away with. So while I was on an overseas trip in 1956 I had an interesting, frivolous experience in San Francisco with a movie camera, filming the latest fashions on the stage while pretending to be a photographer from Australia.
I had a good accommodation scheme worked out. I went to the best hotels in San Francisco, Chicago, New York, Vancouver, Rome and Paris and told them a yarn that I wasn't booked in, but in Australia - in Sydney, Melbourne and Canberra - their particular hotel was considered the best and the one where my mail would be coming. Even if they were booked out I would have to have one of their cheap rooms, and even a maid's room in a really good hotel is as good as or better than a good room in a second class hotel. Of course, the best hotel always has some reserved tickets for plays etcetera, in case a Prime Minister from some country or another important person arrives and requires tickets.
I had worked out that if a Texan or a Frenchman was onstage with an official group in Tasmania, no one would really question why he was there. The Premier would think that one of his Ministers had asked him, and because he was a stranger everyone would naturally think that some other person had asked him. (Now, with plenty of overseas visitors about, it would not work out here or in the U.S.A.) However, in 1956, when far fewer people travelled overseas, I put my theory to the test by asking a policeman to help me get through the 500,000 crowd at Madison Square Garden, as I had to film the latest fashions.
I had a wide Australian Akubra hat on, and with my Australian accent and small movie camera, I was taken right through the crowds on to the stage where I spent some time filming the fashions. It just proves how much can be accomplished if you keep a straight face and have enough cheek! I still have these little movies as a record. My niece, Chris Bennett, is at present putting all these old movies on video cassette. It is interesting to see the fashions of thirty odd years ago on the screen.
I was staying with some friends that I had met in California and they asked when I was going to Las Vegas, the fabulous gambling city. I had not really thought of going, but then decided I had better go and see the sights. I was told that all accommodation had been booked out for months, but I had worked out the above method.
After arriving at Las Vegas by plane and taxi, I picked what I considered the best hotel in the city - at that time, the Royal Sahara. I enquired about a room. What reservation please? I mentioned I did not have a reservation. I was politely told that they were fully booked, had been so for six months and thousands had been turned away.
I said I had no idea that you would be booked out, as the Royal Sahara was the only place we had heard of in Canberra, Sydney and Melbourne in Australia. I now saw that there were plenty of hotels and casinos, but I had asked for all my mail and telephone messages to be sent to the Royal Sahara, so I just had to stay.
I said I would have to take any sort of a room that they could fit me in. They were very impressed with the fact that their casino was so well known in Australia. (Actually I had never heard of it before arriving in Las Vegas.)
I was taken to the Manager's office and he was also impressed and said of course I could have a room and asked at the desk for one to be made available. I was offered a suite of rooms for $60, but I said it was too expensive. I might not even use the bed if I was winning in the casino. So after some negotiation, I accepted $11 accommodation. This comprised of a full suite of rooms as they made their money from the casino.
I had a great time. I met Theresa Brewer, a singer who received $20,000 a night, a fantastic fee at that time. Although I was not a great swimmer, I helped her when she got into difficulties in the swimming pool.
She asked me if I was going to her show that night. On the spur of the moment I said yes. However, of course it was booked out. When I told the ticket girl I was from Australia and asked if she could squeeze me in, she told me politely how all the seats, standing up room and lying down room had been taken up months before. Did I really understand there was nothing left?
I said how heart broken I was, as I had come over from Australia to hear Theresa. She relented and said, Don't worry, I will get you one of the best seats in the theatre. So I paid for it.
However, I was with a young Texan at the Silver Slipper Saloon enjoying the Sophie Tucker programme and forgot until it was too late for the Theresa Show.
I have since felt very guilty about not being strictly true and correct in these dealings. However I have never told lies that affected anyone seriously, nor have I gone back on my word. I was just young and frivolous I suppose.
I remember a night at the Silver Slipper Saloon when a young girl did an act which was only mediocre. There was no instant applause and this Texan said, 'Clap flat out. The girl is new and shy.' So we really clapped and others started joining in thinking it must have been all right. She came over and bowed and appeared so grateful. I admired the thoughtfulness and gallantry of the Texan in helping this new girl out.
In Washington I was taken by Ruth Thomas to view the White House. The official was showing us statues of the previous Presidents and I was intrigued to learn that they did not have one of President James Monroe.
Although I was not a student of American history, I thought that President Monroe had achieved stability through his Monroe doctrine, for the U.S.A. in various ways. They bought Alaska from the Russians in the early part of this century and implemented the 'Status Quo' policy for the Pacific Region. As well, he formulated a national policy for South America (Hands off South America) in which he declared that any outside attempt to take over any part of South America would be met by the mobilisation of U.S. forces.
The guide told me I was the only person who mentioned the absence of President Monroe's statue or seemed to understand the significance of his achievements. I am sure this omission has now been rectified. I was sent a book on President James Monroe titled 'The Last of the Cocked Hats' because of my interest.
I met Ruth at a square dance in Washington; she was an excellent dancer. Later she was chosen to go to Russia on the first joint space project between the U.S.A. and Russia. She was the only woman in the delegation. Ruth later sent us many autographed photos of the first astronauts to travel in space and land on the moon.
When Peg and I stayed with Ruth in Washington, some years later, she was expecting her nephew to arrive the following week. He had ridden his bicycle through many nations on a three year around-the-world trip. Many of these were backward third world countries. I asked Ruth about which route he would take through the U.S.A. to his home in California. She said, 'Bert, you know better than to suggest he could safely ride his push bike through the U.S.A.'
The U.S.A. is a wonderful country, but I thought it was an indictment that he could ride through many and varied places and yet could not safely journey through his own country! Let us hope that this position will never arise in Australia.
In 19561 was in Switzerland, visiting Nestles as we sold, through Dewcrisp, some of the ingredients for their Maggi soups. The staff member, after lunch, suggested I might like a quick look at Charlie Chaplin's home garden.
A lady on the verandah of the house queried whether we had permission to look at their private garden. My companion said he had authority from Charlie Chaplin. The lady mentioned that the Master was in, and she would see if he was free for us to visit him. I thought we had a limited time and it would be discourteous to rush a visit and declined.
I have always regretted that I did not put off the next one or two appointments so that I could meet such a talented, wonderful individ- ual. However, I suppose at that time I was very orientated towards business achievements and concerned about the viability of Australian industry.
During my visit to Scotland I stayed with the Thompsons, parents of Margaret Fenton, the wife of my Takone farm manager. I went out with her father's boss, who owned the Scottish property where they lived, to buy some cattle. The boss, a stock agent and I drove some 30 miles to a property with the hope of buying 22 two-year-old Angus steers. We drove through these steers as we approached the house and they hoped, after seeing them, to buy the cattle they wanted for £98 sterling each, which to my way of thinking was a fantastic price. In Australia at that time they would have been worth £30; they were really good cattle.
When we arrived at the house the boss was greeted by the farmer as an old friend and was asked what he thought of the good Angus cattle. The boss replied that we had not seen them. The farmer replied, You must have, you drove through them. The boss said, I thought I was to look at good cattle.
After a lot of discussion he asked the farmer what he wanted for them and he said £105 each. To which the boss replied, Man, you are always one for great jokes; I will give you £65 each for 16. I cannot take the other six, which look like heifers. (I personally thought they were all really good steers!) The farmer said, That is a silly price. Anyhow, after an hour looking at the potato crops and admiring the farmer's wife and asking about his grandchildren, the boss said, As we have been friends all our lives I will take the whole 22 at £65 each. Then followed another hour's discussion, asking about various relatives, then we bought the 22 steers for £92 each instead of the £98 my friend originally expected to pay for them!
We were then invited inside for a 'wee drap' of whisky to seal the deal, and my friend was offered £1 by the farmer so the cattle would eventually die well. The agent said to the farmer that he would never become a millionaire by offering only £l; he should give £10, and after some more discussion he gave £5! So we went to a play at Edinburgh, which was very good, to celebrate buying the cattle for £92 instead of £98 and to use up the £5 gift. It was my greatest experience in cattle selling and buying! I have been told that Mr. Henderson [*], now a 100 years of age is still buying and selling cattle.
[* Third printing August 1992 - Mr. Henderson is now 102 years of age.]
The Scottish climate must favour longevity as I saw a photograph of a Farquharson, 115 years old, avery distant kinsman, walking around in full army dress and carryinga battle axe. I do not know when or how he died, probably either in battle or, as he looked so handsome, in duel over a lady friend!
On the Sunday I accepted a previous invitation by Captain Aiwyne Farquharson, head of the Clan Farquhar/Farquharson, to their Invercauld Castle. When I arrived at a later hour than previously planned, the Queen Mother was moving in. I inquired of the Royal Household about the whereabouts of Captain Farquharson and they had no idea. I said, But he does own the castle. However, I was told by ten different officials in the next half-hour that the Queen Mother owned the castle and they had been coming regularly for many years.
I was just giving up, fully convinced that my distant relative did not own the castle when the eleventh Royal Household official, who had been reading a newspaper, said the Queen Mother was not the owner, and only used the castle every summer. When Captain Farquliarson madeway for the Queen Mother to move into Invercauld Castle he moved to Braemar Castle, which he owned. (Later the Queen Mother bought her own castle in North Scotland.)
Bob Thompson, my Scottish host and travelling companion, and I had an opportunity to attend church services with the Royal Family at Craithee Church, but unfortunately we had promised to go immediately to meet Captain Farquharson. Peg and I had been at the Royal Ball in Hobart in 1954, when Her Majesty visited Tasmania, and it would have been nice to have been present at worship that day.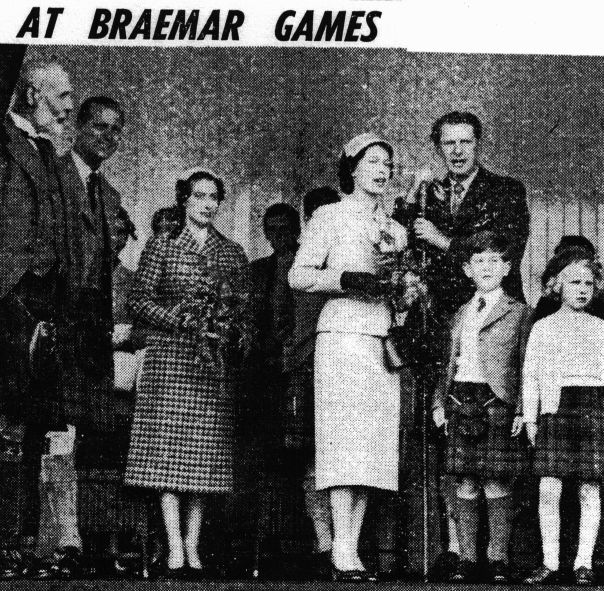 In the Royal enclosure at the Braemar Highland Games last week.
In the group are The Queen, the Duke of Edinburgh,
Princess Margaret, Prince Charles, Princess Anne
and the Marquess of Aberdeen (left).
The Queen is talking to Capt. Aiwyne Farquharson, of Invercauld.
Bob Thompson thought it was not proper for him to enter the palaces. Aiwyne Farquharson's daughter seemed a bit aloof, but I was amused at how quickly social barriers were broken down. After two hours, Bob thought it a great pity not to take the Squire's daughter to a dance! He was a terrific chap and every where the girls were waiting on him. We visited about four dances in the one evening, and I have never seen so many pretty girls all clamouring to dance with one man - Bob, my companion. The Scottish people are extremely friendly and generous, notwithstanding all the yarns they tell against themselves.