Chapter 9 Coastal Development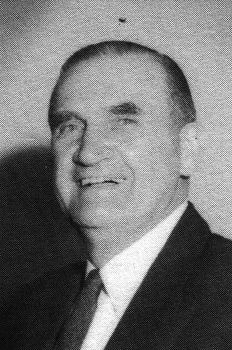 Sir John McEwen
On my return from overseas in 1956 John McEwen, Deputy Prime Minister, later Sir John McEwen, requested my help with land development. This didn't give me much time to return to normal after a 13-week around- the-world tour with an open-dated plane ticket. I would have to get used to being away on many business trips, because from 1946 to 1966 I averaged one day a fortnight outside Tasmania on various business activities.
John McEwen had stayed at the home of Allan Chase, of the Chase Manhattan Bank, in the U.S.A. when SIT Chase was interested in land develop- ment in Australia. During the 1950's food was scarce, and land was one of the main attractions for inyestors. Chase and other Americans had invested in rice growing at Humpty Doo, in the Northern Territory, and land development at Esperance, in Western Australia. They wished to extend their activities to the undeveloped heath lands of North-Eastern Tasmania, Flinders Island, Robbins Island and North-West Coast. I was asked by John McEwen to do a 'hush hush' project on a feasibility, cost and production study of developing some 250,000-odd acres of these heath lands. I agreed, but asked him to request the Director-General of Agriculture in Canberra also to do a feasibility study. The Director-General put the request through my brother, Dr. Reg Farquhar, who approached the Tasmanian Premier and later the
Director of Agriculture. Arch Mead, Deputy Director, rang me and asked me for my help in this project, not knowing I was already vitally committed.
I said I could not help out, as I was involved, but later when Sir John, plus an American Doctor of Agriculture, flew to Bridport in a special Air Force plane and then viewed the area from the air and on the ground, I was able to help.
Mr. Frank Hicks, Director of Agriculture, and Mr. Bob Paul, Director of Soldier Settlement, joined the party at Bridport. While both were really good men, they did not know the area under investigation or its potential.
Unfortunately Chase 'burnt his fingers' when the birds cleaned up the rice at Humpty Doo and he called off further development.
I estimated in 1957 to McEwen on figures then available that this development would increase land underproduction in Tasmania by 20 percent. The files show that generally speaking my assessment of potential and even costs and production were fairly accurate, and naturally the costs kept increasing over the years. It was a terrific job to assess this huge project in its undeveloped state, without even proper roads.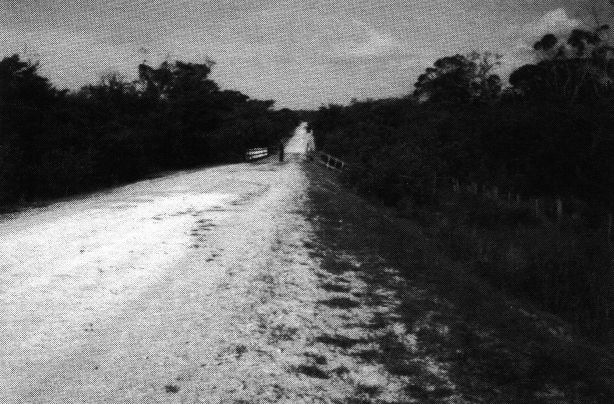 I built a 9 kilometre road in 1968 to join up roads from Waterhouse to Gladstone.
Also built a bridge over the Boobyalla River at my own expense to link Wyambi and East Wyambi properties.
It is now a public highway.
I did not charge any money for time or out-of-pocket expenses for all this work over some months, but it awakened my interest in the. area. Actually the whole area was ultimately developed and seven years later I started buying some of this ground, eventually developing 10,000 acres. Then later I bought Rushy Lagoon, so I now own and control 69,017 acres of it.
During the sixties, after I bought the Wyambi properties, the little sea-side town of Tomahawk, which had only a few houses, had a problem. Because it was only a small settlement, there was of course no sewerage scheme and the septic tanks would not work. The tanks flooded in the winter and the water could not run away, causing a health hazard. Therefore the Health Department told the Ringarooma Council no more buildings could take place in this lovely little resort. Incidentally this is the only sea-side town on the ocean in the Municipality, although there are plenty of beaches available with shacks located in various areas.
I suggested that a 20 acre swamp on the hill, overlooking Tomahawk, because it had no outlet, was the cause of the problem.
The simple solution was to drain the swamp to the Tomahawk River. This would stop the winter soakage from flooding the septic tanks. This seemed to the authorities too simple and cheap a proposal. The Public Works Department even suggested spending some thousands of dollars on one septic tank, using crushed metal in the hope of solving one problem.
I had told the Postmaster General's Department when they laid the telephone cable the swamp was going to be drained. They accepted this as the gospel truth and fortunately laid the cable on the bottom side of the road. If they had questioned who was going to do the draining, it could have been awkward, because I had decided to drain this Crown Land free of charge, without waiting for official approval.
I often find out that government departments are quite willing for some action to be done, but red tape holds them up.
We hired a back-hoe, dug a ditch and diverted the water through council pipes under the road, to the Tomahawk River. immediately there were no further seepage problems on septic tanks. The Health Department officers for the North East and Hobart were delighted and wondered why it had not been done years before.
All the dozens of building applications that had been held up for years were now approved, and Tomahawk developed into quite a lovely little sea-side resort.
Marg and I also drew up a new development chart for the area, suggesting that houses be built only in the sheltered area around the bay to leave the exposed original subdivided area for tree growth to help the environmental aspect of the whole area.
The 20-acre swamp is now growing grass, and being consoli- dated with cattle by Greg Nichols, but will ultimately be used for a sports area for the town.
We were instrumental in getting a footbridge renewed over the Tomahawk River. The Progress Association was in favour of its renewal and pushing for it to be done, but the Director, Mr. Doyle, said he could not justify the expenditure, as really there was very little public land over the river. He said, if we would sell him some land (covered with sand) he could do it. I told him we would give the Department 14 acres of ground along the river, if he would allow us to buy the adjoining block of ground to our Tomahawk cottage at Government valuation. He was delighted and said they would accept the proposition with pleasure.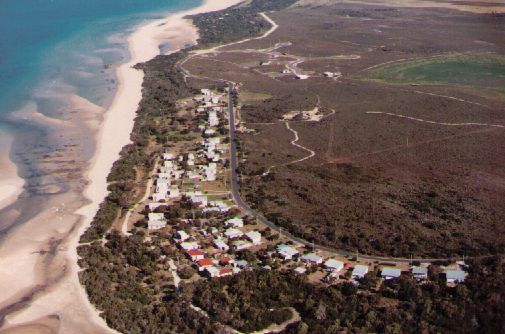 Tomahawk Town (apart from original shacks) could not
be built on a modern scale with septic tanks etc.
because of a water seepage problem.
In late 1970 I drained a 20 acre swamp on Crown Land at my expense,
and diverted the water to provide drainage.
It is now a thriving little sea-side and fishing resort.
However, when he got back to Hobart he rang me, and asked would I mind bidding for it at public auction! I could see his point. People would ask if everyone had to buy Crown Land at a public auction except Bert Farquhar! The fact that I had given 14 acres of ground would not interest them, or be mentioned. However, Peg and I still gave the 14 acres of ground free as a public recreation area and paid £300 above Government valuation for the block of ground adjoining our cottage.
Although we had offered the Director a wonderful deal, some people would only tell half the story and cause problems; therefore the Director's decision was correct.
We pushed for the whole sandhill then to be planted with marram grass to protect the beaches of Tomahawk. This was done and is really a great success. Otherwise the sandhill would have blown away and the westerly wind would have played havoc with the beach for all time. You could not replace the protection provided by the sandhills again for $2 million or more.
This coastal country, apart from the mining, was used only for grazing, mainly in its undeveloped State. Cape Portland, in the north-eastern corner, is well-known, and has an important history.
In 1831, a year after the Waterhouse sheep station was started, 2500 acres at Cape Portland was granted to Simeon Lord and later granted to John Foster. Then the following year, in 1832, another 1500 acres in this area was granted to Samuel Bowen.
Cape Portland is now owned by Hew Mills and the majority of the surrounding country by us, Rushy Lagoon having been bought on May 5, 1986. Red Hills is owned by Edgell and Archer. Icena is owned by Richard Hill.
Large-scale development of this coastal country did not really begin until after the Second World War, when it was undertaken by the Land Settlement Division for soldier settlement blocks, and private development then spread throughout this whole area.
In about 1958, when the Federal Government decided to close the Scottsdale Defence Research Centre with all others in Australia, the fact I had such close ties with Sir John McEwen made the retention of the Defence Research Laboratories at Scottsdale possible.
On February 20, 1953, we figured in a first for Australia when a blue Customline car was unloaded for us at the Bridport aerodrome. The occasion was the official opening of the North-Eastern Aerodrome at Bridport by Mr. R.G. Casey, Minister for External Affairs and later Governor-General of Australia.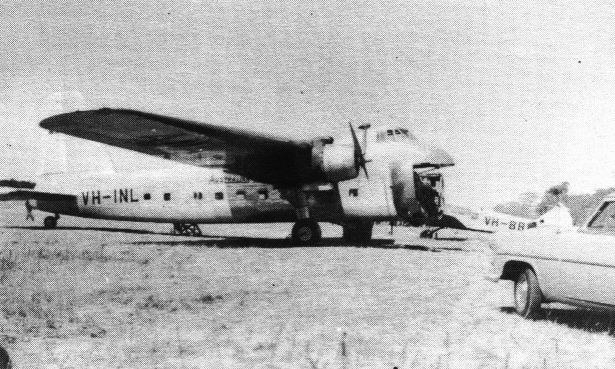 Bristol Freighter at opening of Bridport Airport after
unloading my Customline car.
At the time this was the biggest item ever to be transported in a cargo plane in Australia, and the hostesses and crew of both airlines watched it being loaded in Melbourne.
We kept the blue Customline car for many years, and used it to take a square dancing set of eight to various functions. There were no seat belts in those days! A small tractor was also brought over as cargo on the same plane, which was then refilled with Dewcrisp processed food for the return trip to Melbourne.
The aerodrome was built in 1952 by a private company. Mew McLennan, who began the development, was the main shareholder and driving force behind it. Later the aerodrome was sold to the Transport Commission. It is controlled by the Transport Department now, and it serves a great need. I used it in November, 1987, when I was flown to Flinders Island to open the agricultural show there.
For many years I have been interested in how best to help our aborigines, by promoting them, at the same time helping Australia as a whole.
The aborigines, as we all know, are wonderful horsemen and great survivors in central Australia and elsewhere. They have made a tremendous contribution to our cattle industry, and they have many other skills, one of which is making and using the boomerang.
We often overlook this unique weapon and take it for granted. There are some aborigines who can even get the boomerang to hit the object and return! I discussed this with Sir John McEwen, when I had a close working relationship, on a return trip from the U.S.A. and he thought the potential was considerable, but at that time the Commonwealth was not really involved.
Therefore in 1956 I tried to organise a display for the opening of the Olympic Games, but it was thought it would make the other nations feel inferior, so it was rejected!
I hope with more general interest in the aborigines, plus more time available, a display could be arranged for an Olympic Games in the future. It would be very impressive to have life-like plastic, fur covered kangaroos set out in the oval in a bush setting! Then with the 'kangaroo' facing the aboriginal thrower the boomerang would circle around, hit the kangaroo from behind or on top of the head. This would be spectacular.
The boomerang is used quite a lot in Australian publicity, but it is certainly not fully exploited. Just imagine if the American Red Indians had this weapon, how the American white would capitalise on its unique features:
Friendship - what you give out returns to you.
Trade - whether you sell good products or poor products will depend on what returns to the hand of the thrower!
It would be a wonderful isymbol and make Australians think about their general behaviour, trade, sport and environment.
Although I was not successful in getting a display at the Olympic Games, I was successful in getting the manufacture of really good returning boomerangs increased in 1956.
The public at present are very concerned about how much should be spent on Aboriginal grants. I do not know the answer, but if it could boost their morale and standing in the eyes of the world, this would be far better for them than extra money. For example, take an expert aboriginal thrower overseas to advertise our unique boomerang logo, and give an actual demonstration by sending a boomerang around the exhibition area and having it return to his hand. This would be novel, create a lasting impression, and be a wonderfully cheap, effective publicity stunt.
I saw the dramatic effect on an audience of an Australian stockman cutting leaves off trees with a stock whip at 1.30 a.m. Anything spectacular is interesting.
The same applies to the aborigine with the boomerang. Instead of people being patronising to them, which unfortunately a lot of people are, they would envy them this prowess.
The aborigines have many wonderful traits that we lack, so anything to help them feel important and a vital link to the country would be worth while. They have contributed greatly to operations of many of our mainland cattle and sheep stations.
In the letters dated 1953 attached, note the complete lack of Commonwealth contact with Aborigines!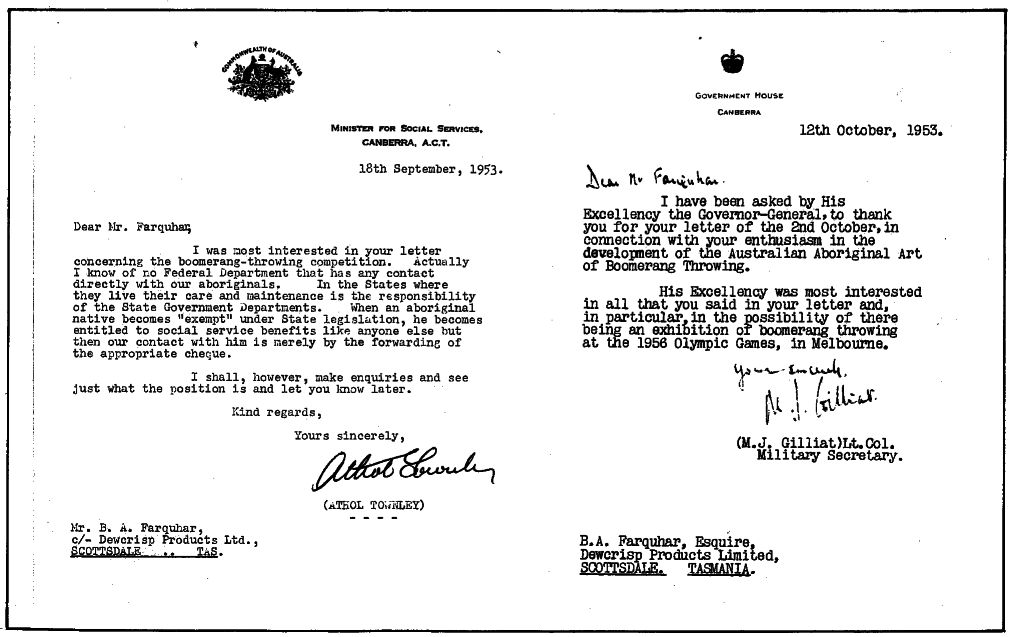 Correspondence from Atholl Townley